As Steven Vale reports, a pair of 30-year-old Cameco articulated tractors and three Cat dozers provide the grunt to pull a number of modified scraper boxes.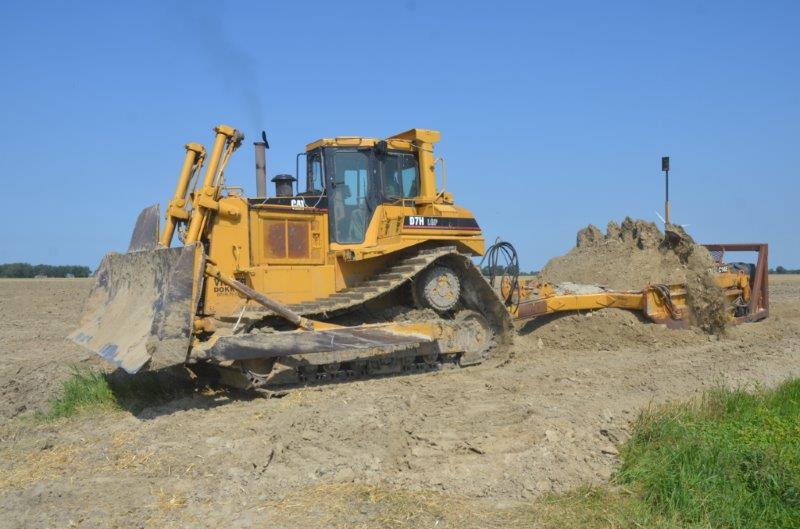 Founded by Eelke Visser in the mid-1950s and operating out of a makeshift workshop near the town of Dokkum, the initial focus of the business was road maintenance work. The first of a long line of Cat machines – a 933G tracked loader – arrived in late 1956. It was followed by a D4 dozer to help with pipe-laying work to connect towns and villages to the gas network. Son and present day owner Lieuwe Visser and brother Pieter joined their father in 1969 and during the next few years the size of the dozer fleet grew to 10 units. There were both highs and lows for the family business in 1975, with the sad news that Eelke had passed away. On a brighter note, their pipe-laying activities brought them into contact with farmers, so a lot of work came in to remove ditches and to amalgamate two or three smaller fields into one larger unit. This work was initially undertaken by a large plough pulled by a dozer. It was an effective combination, but it was a slow process. After building up their business the two brothers started searching for a faster alternative. A dedicated motor scraper was considered too heavy, but Dutch Cat dealer Geveke convinced them that a pull-type scraper was just what they needed.
Lieuwe and Pieter were soon on their way to the factory of Cane Machinery & Engineering Company (Cameco) at Thibodaux in Louisiana, for a first-hand look at a pair of 9cu.m capacity 12C Carry-All scrapers, pulled behind a Cameco-built 250hp 405-B articulated tractor. It was not just the simplicity of the tractor that pleased the Visser brothers, but also the fact that all spare parts could be sourced locally.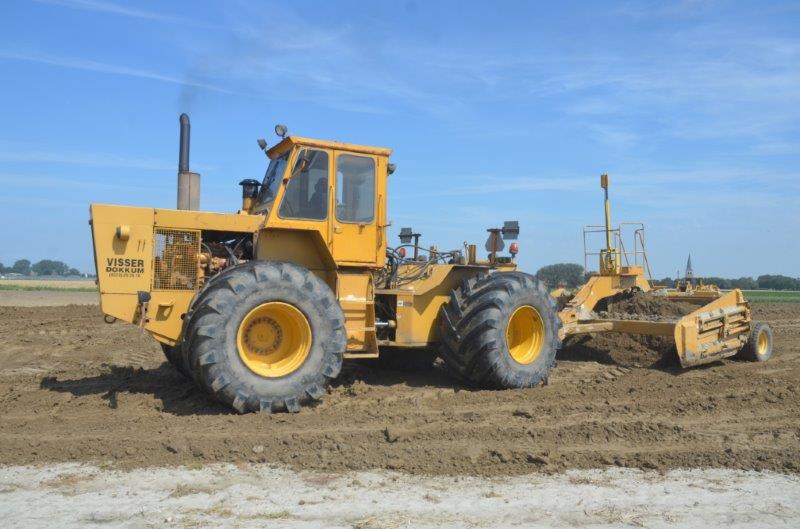 CAMECO TRACTORS
While the majority of these industrial tractors were used in sugar cane plantations, the two men were impressed by what they saw and decided this dream combination was just what they needed. In 1983 they placed an order for a brand new and laser-controlled 405-B tractor and a pair of 12C scraper boxes. Operated by a lever on the left, the HT705 five-stage automatic powershift transmission came from Allison, the axles came from John Deere – which ultimately went on to buy Cameco – and they were able to choose between Cummins or Cat engines. They opted for the latter and a 3306T they were familiar with from their older dozers. They also praised the tractor's robust and virtually indestructible nature and, unlike all modern articulated tractors this one was so heavy at 13.4 tonnes that no extra ballast was required. This was partly due to the sturdy chassis, which was made from 19mm-thick steel. Then there were the 8mm-thick mudguards, while the 3mm engine hood was tough enough to walk on without leaving a dent! While more than pleased with the tractor, it is fair to say they were far less impressed with the scraper-boxes and the difficulty of completely filling them in tough clay. The drawbar frame was too low and the clay tended to bulldoze in front of it. In the end, they gave up and the scrapers were parked up and the tractor was coupled to the plough. A second Cameco tractor arrived in their fleet in 1986.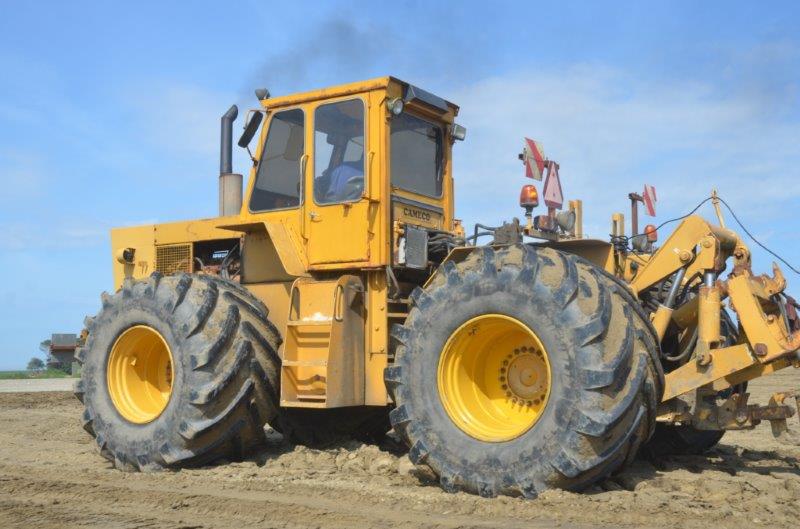 SCRAPER RE-EVALUATED
Fast forward to 2002, which was a big year for Lieuwe. Sadly his brother decided to leave the business, but on a positive note Lieuwe took another long hard look at the Cameco scrapers and decided to rehabilitate one unit. He increased the drawbar frame ground clearance from 30cm to one meter and fitted larger rear tractor tyres to it to reduce the ground pressure. That same year he sold the second Cameco scraper, something he regrets to this day. Lieuwe said, "The modified scraper worked really well so I tried to buy the second one back, but without success." The surviving Cameco scraper was pulled behind a 140hp D6C dozer and for the next 18 months Lieuwe and his son Eelke evaluated a number of Dutch-made pull-type scrapers, all of which they deemed to be not man enough to tackle the tough clay. It was not until 2004 that they found what they were looking for and two 1998-built C14E Rome pull-type scrapers were bought from a Ritchie Bros sale in the USA. However, while Georgia-based Rome made a good solid machine they soon discovered a problem. Once the contents were emptied, Visser had a policy of always reversing the dozers to prevent excessive wear and tear on the tracks when making sharp turns. The problem concerned the 3.2m width of the scrapers, which was exactly the same as the dozer. This meant that while reversing the dozer's tracks rode at an angle over the ridge exerting extra pressure on pads. This was not an issue with the 4m-wide Cameco 12C. In the end, this was once again solved internally by widening the scrapers to 4.20m. The workload increased and in 2010 they added two more pull-type scrapers, this time a couple of used Reynolds LSE14s bought in Germany from Mobias.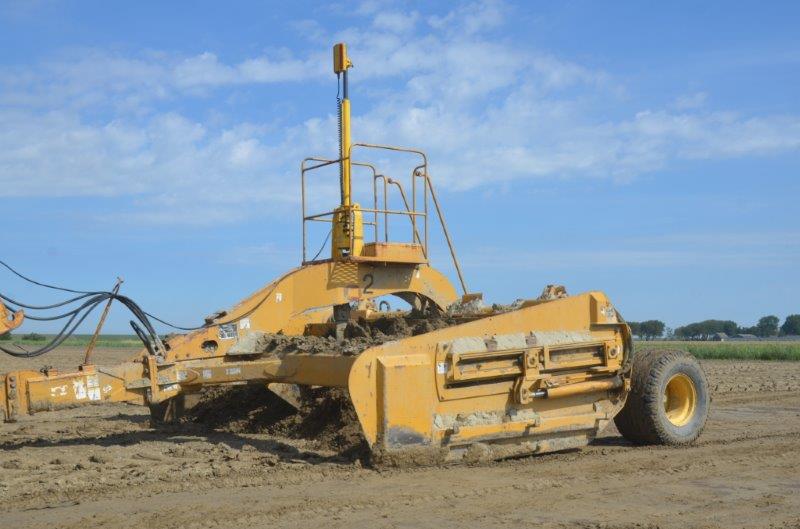 SITE VISIT
The land in much of the coastal area comprises what used to be the seabed and at best a 25-30cm-thick layer of sandy loam, below which is a deep layer of very heavy clay. During the past 40 years Visser has specialized in ploughing under the valuable top layer and then scraping off or pushing the clay to fill in any low points or ditches. By the time the job is done, the field's original top layer is once again exposed on the surface. It is tough and very precise work and during our first visit the older of the two Cameco tractors was chugging out black smoke, draining the 570-litre fuel tank at the rate of 40-50lit/hr pulling one of the Reynolds LSE14 scrapers. At the far end of the field one of the dozers was pushing large quantities of clay in the direction of a ditch. To the untrained eye it all looks a bit hit and miss, but actually it's a highly technical and skilled process and all mobile machines are laser guided. Son Eelke, who is a computer software programmer by profession, designed a land-levelling programme especially for the business.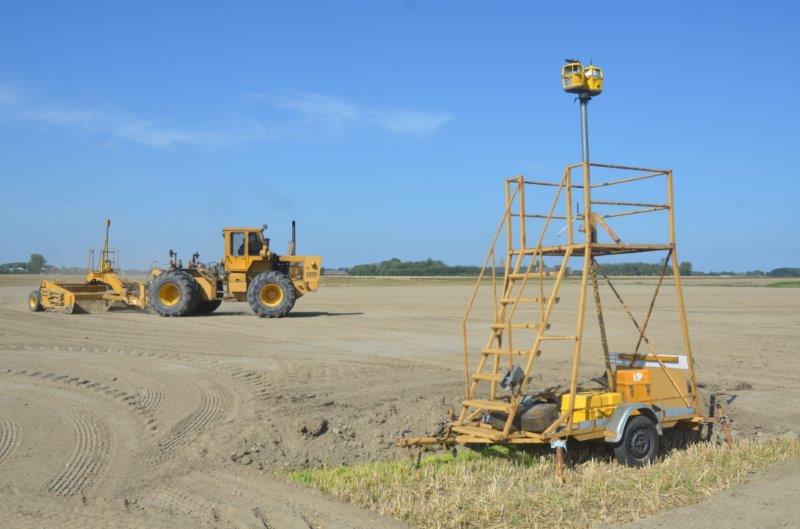 Lieuwe is quite prepared to talk at great length about the machines, but this unique soil measuring part of the operation is an area he prefers to keep under wraps. What he is prepared to disclose is that before the machines start work, the depth of the material on all land is first measured by a quad at 5m intervals. This is converted into 20m x 20m grids, with 10 measured points in each. This information is transferred into computer-generated maps and uploaded to all mobile machines. The system is so sophisticated that the working depth of the plough, which is always the first tool, is laser guided to automatically vary the working depth to bury the topsoil at exactly the right depth to provide the necessary volumes of clay required for the levelling work.
THE FUTURE
The two 1980s Cameco tractors are still working well, clear proof that they are built to last. Providing Cat continues to stock the parts, then Lieuwe reckons they will continue to be available to do 600 to 800 hours a year for many years to come. He said, "All we need to do is replace the engine and rebuild the transmission every eight to 10 years and they just keep on going. Also, the chassis on both tractors is so thick that we can weld it if necessary." In addition Lieuwe currently runs three dozers; a pair of 2008-built D6Ts and a 1988 D7H with 20,000 hours on its clock. One of the things Lieuwe hates about the newer models is the high level of electronics and said, "These days I have to get the dealer out and hook up a laptop to get to the bottom of any problems. The Camecos are so simple and easy to maintain and repair." Do not be fooled into thinking that Visser is somewhat over-powered for this type of work. Last season, a 34-hectare job kept them busy for eight weeks, during which time the machines shifted 80,000cu.m and on average for every hectare of land they tackle they have to move 1000 to 1500 cubes of muck. However, Lieuwe is conscious of the need to improve the image of the company and modernize the machine fleet. With this in mind he toyed with buying a new articulated John Deere tractor, the spiritual successor of the Camecos, but eventually opted for a 560hp New Holland T9.560.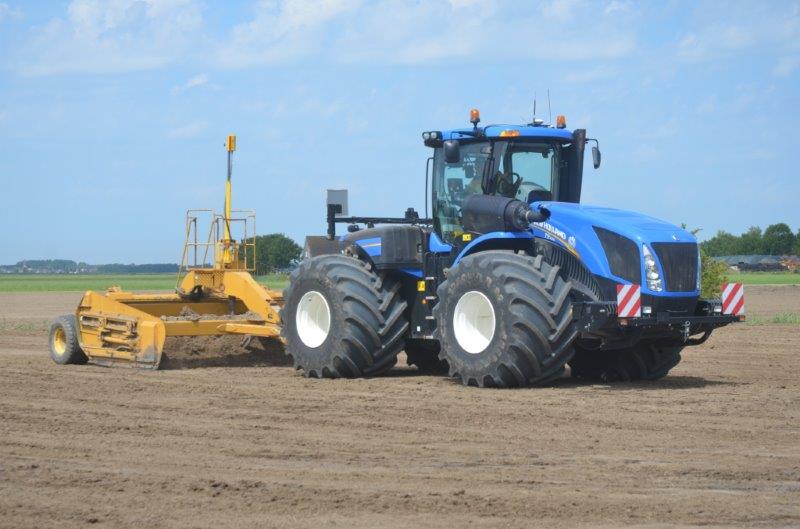 The way Lieuwe talks about his company and the twinkle he has in his eyes is infectious. The 66-year-old still has heaps of energy and hopes to be able to continue to put in many long days for years to come. This is just as well because son Eelke has no immediate plans to swap his software programming work for the controls of one of the tractors or dozers. There is certainly plenty of work, as the firm is nearly fully booked for this coming season. What's more, there are still many more hectares to go at. Many older farmers in this area, especially those lacking a successor, have not done anything to their land for many years. When these farms are eventually sold the land will require treatment and Lieuwe is confident there is work for many decades to come.
Gepubliceerd in het vakblad Eartmovers